It consists of two radars, one in Tasmania and one in New Zealand, with beams that intersect and explore an area half the size of Australia. The radars direct HF radio signals via the ionosphere towards Antarctica and detect weak echoes from structures in the ionosphere. These echoes are used to form images of the ionosphere structures and measure their speed and direction of motion.
The radars also detect echoes from meteors which are used to calculate wind speeds at heights of around 100km. Signals scattered from the sea are also detected and methods of deducing the sea-state from these signals are being developed.



Results from the operation of TIGER include greater knowledge of space physics and space weather processes which is required to improve management of radio communications and navigation systems such as GPS. It also has relevance to satellite operations and magnetic surveying for minerals and electricity supplies.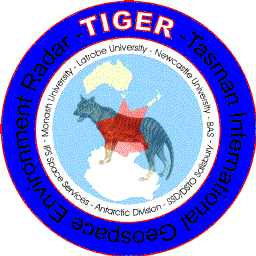 When the sun's corona ejects huge amounts of matter that reach the Earth, there are rapid changes in the wind speed and temperature in the ionosphere as well as the magnetosphere - that region where the Earth's magnetic field interacts with the solar wind.
Auroras are caused by electrons striking molecules and atoms after entering the Earth's atmosphere near the poles. The location of aurora can move 500 km in less than a minute during magnetic storms and can disrupt communication and navigation systems. TIGER monitors such storms and can provide real-time data on space weather storms.
TIGER is controlled remotely from La Trobe University in Melbourne, Australia. It uses HF radio waves in the 8 - 20 MHz range. It consumes only 2 kW of power, the same as some electric kettles and transmits an average of 200W - the same as two bright light globes.
TIGER is supported by a consortium of institutions: La Trobe University, Monash University, University of Newcastle, Australian Antarctic Division, ISR Division DSTO and IPS Radio and Space Services. Funding has been received from Australian Research Council, Australian Antarctic Science, Victorian Partnership for Advanced Computing, British Antarctic Survey, USAF Office of Scientific Research and RLM Systems Pty Ltd.
return to top